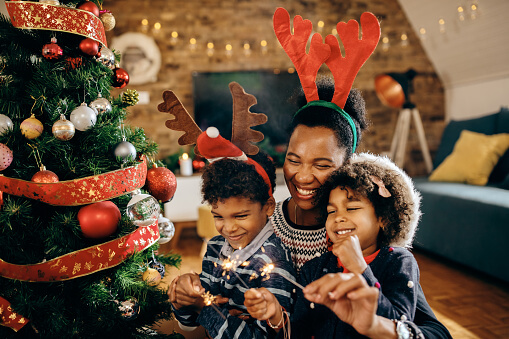 Every year, holidays are a time of great celebration and tradition in families. At the same time, it is a time of major safety concern in our society. During this time, it is important to keep your family safe, especially the little ones. The Omicron outbreak has recently brought more safety concerns for children, especially those that are unvaccinated. With the outbreak of COVID, there are extra safety precautions that can help you safely enjoy and celebrate the holidays. This holiday, we strive to make sure you and your loved ones are safe.
What are the Major Safety Concerns during Holidays?
Car Related Fatalities
During holidays, there is an increase in social activity which causes major incidents that can put your children at risk. According to NSC, car fatalities are the highest during holiday time due to increased car travel, and alcohol consumption. Traveling by car is a concern during holidays due to the high number of car crashes and accidents that occur. During this time, there is a higher chance of drunk driving cases which can put other travelers at risk for accidents. It is important to make sure your family and children are safe during long travel.
Toy Related Injuries
Other major safety concerns during the holidays entail young children, who can be at risk for toy-related injuries. During the holidays, children are exposed to more toys as gifts from families and relatives. Toy-related injuries and deaths impact many children in the United States during this time. According to CPSC, most deaths of children are due to choking on small parts of the toys. Nonmotorized scooters account for about 21% of all toy-related injuries.
Fire Hazards
Home incidents can also put your child at risk during the holidays. Holiday decorations, dry Christmas trees, and burning candles can be a hazard for children in the house. Holiday decoration can be a cause of many physical injuries, involving falling. Parents should also keep an eye when decorating with their young ones. Dry Christmas trees and unattended candles are also a major cause of dangerous fires during this time.
Keeping these things in mind, it is important to be aware and proactive during holidays, especially with young ones at home. Making your home foolproof can help prevent any major incidents. During this year's holidays, it is also important to keep your children protected from sickness. Due to COVID, it is important this year to keep your children masked, vaccinated, and healthy when in gatherings.
Tips to Keep Your Kids Safe This Holiday
During holidays, last-minute delays and stress can cause you to be less attentive to the kids. This can put your children at risk for injuries and incidents even at home. A few things you can do to prevent these incidents is to plan ahead for holidays. It is very important that you supervise your young kids even at home during holidays. It is best to get a babysitter for your kids if you have a busy week ahead. Having extra supervision during this time can spare you the stress while making sure your kids are safe.
Tips for Toys/Shopping
When shopping for toys, it is crucial to follow age guidance and safety information on the toy. This can prevent you from buying any object that is a choking hazard for a young child. It is also important to make sure you buy toys from reliable stores whether in person or online. Avoid buying counterfeit or unreliable products especially electronics, as they can pose a danger.
Tips for Safety While Hosting
When you are hosting, it is important to take precautions when cooking and baking. According to CPSC, cooking fires remain the number one cause of residential fires. To avoid this, make sure you are never leaving the stove unattended. While also making sure the kids are away from the stove and from hot products at all times. Fires can also occur from decorations such as candles and dry Christmas trees. To ensure your decorations are safe, make sure you place burning candles in sight, and away from flammable items. Make sure candles are blown before leaving the room. It is also important to make sure your Christmas tree contains a fire-resistant label when buying an artificial tree. If you own a live tree, make sure that tree has plenty of water to avoid creating any fires.
Holidays During The Pandemic
During the recent outbreak of the Omicron variant, it is important to take precautions while celebrating the holidays with others. If you are hosting, it is important to let your guests know they should stay home if they suspect a cold. If you are attending a gathering and you suspect a cold, you should plan on staying home as well. It is important to get yourself and your kids vaccinated in advance, before attending a gathering. If your children are not eligible yet for vaccines, it is important to keep them away from big gatherings and ensure a mask is worn at all times. It is also helpful to reinforce hand washing and using hand sanitizers for your kids to avoid spreading germs.
If you are planning on hosting, make sure you pick a well-ventilated room with air purifiers. Outdoor setting for a gathering would be a safer option, however gatherings indoor should be well managed with proper social distancing. It is also crucial to avoid having any gatherings in a basement or any small crowded area. For hosting, it is also a good idea to get tested as a precaution to prevent spreading Omicron to your guests or other family members. During the holidays, if you plan on visiting relatives in other states or traveling, make sure to visit the CDC's travel page to stay up to date on any new recommendations.
Tags: children, holidays, family, safety, omicron, covid, celebration