Do You or Your Child Have Back Pain, or Appear Hunched Over? You Need Physical Therapy for Kyphosis!
If you're a parent noticing a slouched back in your child, or in yourself, then you may consider looking to see if you have kyphosis. At my physical therapy clinics in Edison, NJ & Paramus, NJ, a common source of back pain that I encounter is Kyphosis.
While it's normal to have some rounding of the back, if the rounding is larger than normal, it can be a cause for pain and concern. Kyphosis is a condition that causes a spine to be overly rounded at the mid and upper back, giving them the appearance of having a hunched back.
Having an overly-curved spine may cause loss of height and develop problems with breathing, nerve problems, chronic pain, headaches, and discomfort. Kyphosis can occur in children and adults for various reasons. It's the leading cause of chronic shoulder, upper back, and neck pain. At Jeevam Therapy, our doctors of physical therapy offer 3-dimensional-Kyphosis-specific-exercise therapy, support, and guidance for your kyphosis, scoliosis, or Kypho-Scoliosis conditions.
Take charge of your back pain today! You'll learn skills and strategies from our doctors to be pain-free! Get to know more about your condition today, contact us and learn more about our treatment methods, how we can help you reduce your curve & pain, and help you live comfortably managing your kyphosis.
What is Kyphosis?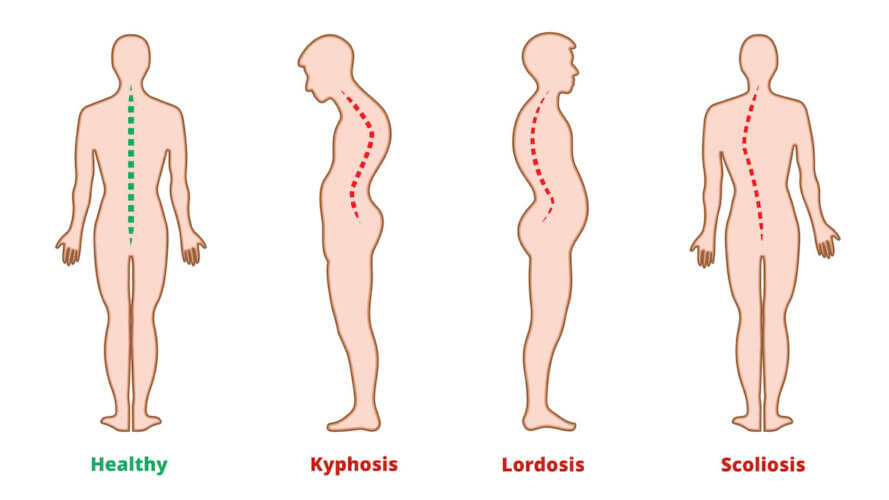 The human spine consists of many stacked vertebrae that are connected by cartilaginous, fluid-filled discs. It's naturally balanced in the midline with some of those rounding forward/inward (Kyphosis) and others backward/outward (Lordosis) alternatingly at 3 places.
In the middle of the spinal column, twelve vertebrae curve inward attached to ribs create a barrel-like chest cavity called ribcage for all the vital organs like the heart and lungs. Balancing to this bend the spine curves outward/backward at the top and bottom. This allows us to stand up straight against gravity and have the flexibility to walk, bend, stretch, and balance ourselves. When the upper and midback inward curvature is larger than it should be, it's referred to as thoracic kyphosis.
Opposite of Kyphosis is Lordosis, it's the outward/backward curving, usually seen at low back (Lumbar) and neck (cervical) region. Kyphosis causes postural muscle imbalances against gravity, causing back, shoulder, neck pains, and at times headaches. When you think of people having issues with the spines, the first term that may come to mind is "scoliosis," however, this condition is different from kyphosis. Scoliosis is defined as side bending and twisting of the spine when viewed from the front, whereas kyphosis is overly back curvature apparent on a side view. Sometimes, in some individuals, both are seen as Kypho-Scoliosis of the spine.

There Are 6 Types of Kyphosis: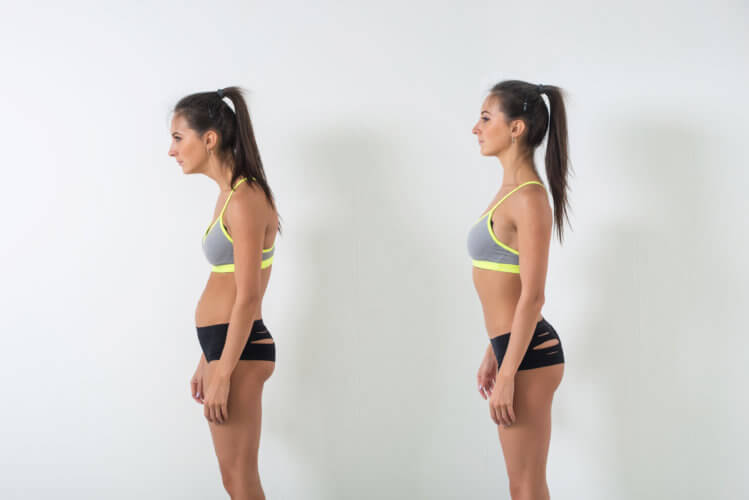 Degenerative: This type is often seen in adults and the elderly population. As the bone loss sets in and vertebrae change its shape due to normal wear and tear, osteoporosis, arthritis, and disc dehydration, etc.
Congenital: This type happens when parts of a child's spine develop incorrectly at birth.
Ideopathic/Scheuermann's: This occurs when the vertebrae become wedged with relative shortening of the anterior part vertebral body, which allows the spine to curve more than normal.
Post-traumatic: This type occurs when vertebrae are injured and fractured, causing the bone to collapse the spine to curve.
Postural: This type develops in patients with poor posture. Prolonged forward bending in sitting and staring at screen time users have backache, shoulder, neck pain. Often poor posture can strain the neck and can cause a headache.
Nutritional/Metabolic: This condition happens when the body is unable to process calcium, magnesium, phosphorus, or other vital minerals that strengthen and harden bones, the bones can become weak and break.
Our SBI-Schroth certified doctors of physical therapy can assess yours or your child's spinal condition and determine which of these types of kyphosis, and offer suitable treatment options. You may need just one session to learn a few postural alignment exercises or more depends on your symptoms.
Symptoms of Kyphosis:
Several symptoms can manifest with kyphosis, and the severity of those will vary depending on the degree of curvature, age, and physical activity levels. Often, kyphosis doesn't cause pain in the early stages when the curve is not so severe. However, with some patients, the curvature may become so serious that it causes issues with intestinal movement, breathing, as well as heart and nerve functions.
With time, gravity will work its magic and cause your curve to worsen as a result you may experience chronic pain. If the thoracic curve has become so severe that they begin experiencing any of these symptoms, their condition should be evaluated as soon as possible. Even if a child does not have serious symptoms, during a child's growth spurts the curve may develop one or more of the abovementioned symptoms. Growth spurts happen rather rapidly changing the body's alignment, teaching the brain to feel it as normal so your child perceives as a straight spine.
How can 3-Dimensional Schroth Physical Therapy Help?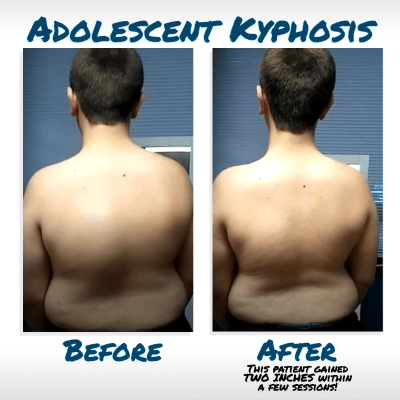 During your first appointment at Jeevam Therapy, a doctor of physical therapy will perform a comprehensive evaluation, review your X-ray or MRI to determine the type of kyphosis you have. After discussing its severity and understanding your needs and goals create an individualized plan of care for you. You may need a supportive or corrective brace in addition to your individualized exercise regimen.
Our doctors teach how to activate the deep core stabilizers, breathing techniques called rotational angular breathing (based on the Schroth method) with asymmetrical muscle tension to create symmetry in a kyphotic or scoliotic spine.
You should expect some or all of the following:
Pain relief;
Corrected posture to your best alignment;
Improved appearance;
Better breathing efficiency;
Improved core stability and strength;
Increased overall movement pattern and function;
Improved self-management and understanding of the spine;
With physical therapy for kyphosis, the ultimate goal is to prevent your or your child's condition from worsening over time. Your doctor may also use thera-bands, thera-balls, poles, chin-up bars or wall ladders, pelvic corrections techniques, rotational angular breathing exercises, and proper posture holding techniques. Your exercises will be very individualized specifically designed just for your curve and well being
If you or your child starting to look like a hunch back or have been diagnosed with kyphosis or another spinal condition, or you suspect that they may have problems with the curvature of their spine, it's a good idea to consult a doctor at Jeevam Therapy.
Let's get things straightened out!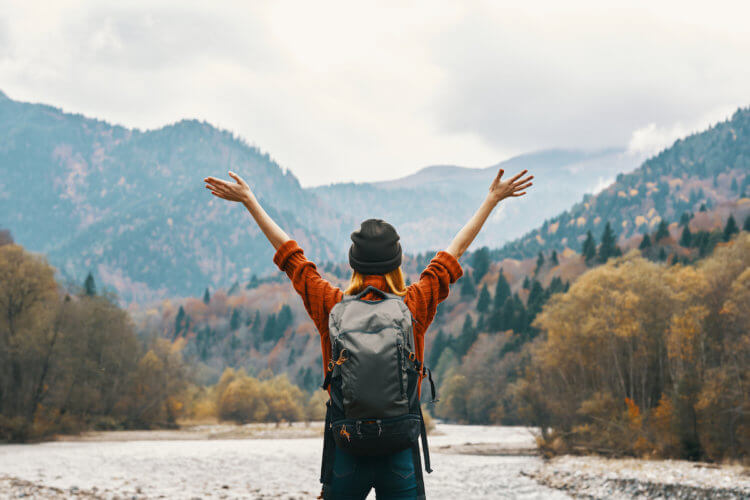 Physical therapy can help relieve back pain and improve your posture, boost self-image & improve function. Your doctor of physical therapy will be able to teach you certain exercises to stretch and strengthen areas of your body that might be impacted by the misalignment of your spine due to kyphosis or Kypho-Scoliosis. You will manage your spine and pain by yourself with the exercises and tools you learn at Jeevam therapy.
Call a doctor at Jeevem therapy today!
Stay well,
Dr. Eva Mohanty, MSPT, DPT, SBI- C2, SEAS-II, CMSR
Owner | Jeevam Therapy
Paramus, NJ & Edison, NJ
Tags: back pain, Pediatric therapy, physical therapy, pain relief, back pain relief, kyphosis